DECEMBER SPECIAL!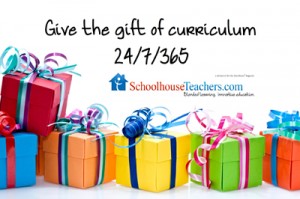 This is a great Christmas present – not only for yourself but also for a friend!
Purchase a Yearly Membership and gain access to our ever growing online teachers and curriculum to put a plan together that's just right for you. This automatically renewing membership, locks you in to this $139 annual rate. During our December special you will receive a FREE copy of the 2014 Print Issue when it is released (US only), Schoolhouse Library AND a free 1-year membership to SchoolhouseTeachers.com to give to a friend.
If you are a SchoolhouseTeachers.com affiliate, simply use the code below and add the button to your site! The only thing you need to do is add your affiliate number where it states in the code.
USE THE FOLLOWING CODE FOR THIS SPECIAL DEAL:
<a href="http://schoolhouseteachers.com/dap/a/?a=USEYOURAFFILIATECODEHERE" target="_blank"><img src="http://schoolhouseteachers.com/wp-content/uploads/2012/02/GiveST_gift-300×199.jpg" alt="" /></a>